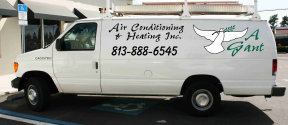 Our Services
Phone: 813-888-6545

A Gant Air Conditioning & Heating Services all brands of home comfort equipment. We also sell and install what we believe to be the best brands available. We offer service and maintenance agreements which can extend the life of your current system and help you save significant money on your electric bill.
Safety and Efficiency Agreements help insure your home comfort system is there for you when you need it most and they save you money
Air Duct Cleaning - Breathe Easier with Cleaner Air Ducts. We utilize state of the art equipment to insure the job is done right.
UV Lights and Air Purification Help Stop Mold and Microbial Contaminants Before they Gain a Foothold.
Picture of Cash in hand and bedroom pictures courtesy of freedigitalphotos.net